NEUTRO-FIX: Neutralisation of chemically contaminated wastewater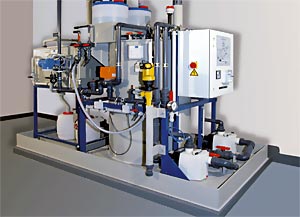 Neutralisation plant Neutro-Fix 3 (3 m³/h) with upstream floating and sinking material separator; Technology Park in Wendelsheim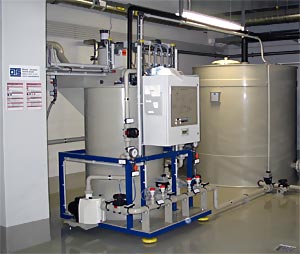 Neutro-Fix 3 (3m³/h) with upstream buffer tank at Hamlen pharmaceuticals GmbH.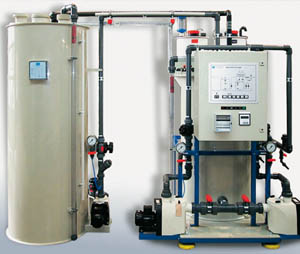 Neutro-Fix 1 with buffer 3m³, Freising University
The installations function to neutralise chemically contaminated wastewater. Other processes, such as detoxifications, can also be carried out with the Neutro-Fix system. The neutralisation process works automatically. The plant capacity is 3 m³/h; for short times, it can be run at a capacity that is 50 % higher.
Outline of process
The wastewater produced is conveyed to the reaction tank via an inlet line. As soon as a certain level has been reached, a contact maker switches on the feed pump for recirculation of the tanks' contents. The pH level is checked simultaneously. When the recirculation time has elapsed, the control system is started. Depending on the control deviation, the acid or base valve is opened and the respective chemicals are dosed into the tank. The opening time of the solenoid valves depends on the control deviation. In the event of large pH level deviation (e.g. pH 2 or pH 12) the valves are opened longest. The smaller the control deviation, the shorter the opening time. The latter is adjusted to local requirements for both solenoid valves during plant start-up.
If the pH level is within the permitted limits, the drain valve opens and the neutralised wastewater is pumped away. As soon as the empty contact inside the reaction tank has been reached, the feed pump is switched off and the drain valve is closed.
An additional full contact is built into the reaction tank, triggering a visual and acoustic signal at a specific tank level.
pH level registration
On the tape of the point plotter built into the control cabinet, the pH level and the drain valve opening are logged.
Dosing station
The dosing station features two storage tanks for acid and base with a storage volume of 60 l each. The tanks must be monitored and topped up at the right time with hydrochloric acid / sulphuric acid or sodium hydroxide solution (concentration 30%).