MULTIMEDIA FILTRATION FOR SEOARATION OF PARTICLES, OXIDISED IRON AND MANGANESE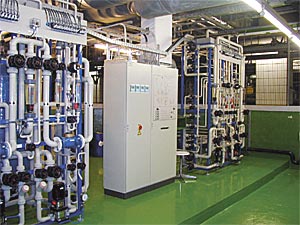 Demineralisation plant, two-line cation and anion exchanger with downstream, regenerable mixed bed stage
Ion exchange is a classic treatment method to obtain fully demineralised water and is still used today. In spite of the high effort of acid and base dosing or regeneration processes, complete demineralisation is sometimes still the right choice.
The rugged design and the reliable operation of the plant technology continue to be a selection criterion for many customers.

EnviroDTS demineralisation plants are always custom-tailored. The microbial contamination risk, the ion exchange capacity, the degree of contamination and the plant throughput are considered during plant layout.


The exact control of the regeneration process is facilitated by single valves with position limit switches. This allows the optimisation of the backwash water volume and the chemicals used. The rinsing and flow rate are set precisely. The exact setting cuts operating costs and thus allows economic operation of the plant.

Ion exchange vessels are installed in groups, so that there is always enough demineralised water available during regeneration.