ENVIRODTS REMOTE SERVICE
Help worldwide in any event
Consultation/Hotline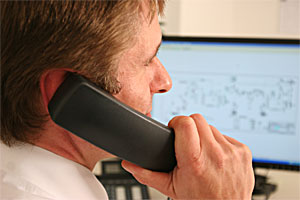 Our employees will gladly give you competent advice for all your queries regarding instrumentation, control and automation technology as well as process technology.
Remote diagnosis
Via modem, a connection between our engineer and the particular plant control is established. This is how possible malfunctions can be diagnosed and controlled.
Software updates
Updates in the event of updates or modernisation.
Backup of our plant data.
Your advantage:
Fewer service operations
Lower service costs
Avoiding plant downtimes
Targeted operations planning and spare parts delivery
Support of your service and maintenance personnel
A service technician is not always necessary:
By means of remote diagnosis, more than 70 % of the problems can be solved.
Almost any EnviroDTS plant can be delivered ready for remote service. Older plants can generally be upgraded or optimised for remote service.

Services and fees are generally stipulated in a special remote service contract.