ENVIRODTS SPARE PARTS SERVICE
Keep everything running at all times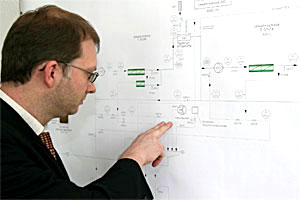 Spare parts delivery
The cooperation of all producing member companies of the EnviroWorld group when it comes to spare parts logistics guarantees high availability of series and standard parts.
Recommended spare parts list
In order to guarantee maximum availability also for special parts that are custom-made for individual solutions, you will be given lists with spare parts recommendations for your plants to make parts stocking on-site easier for you.
Spare and wearing parts packages
We group all important parts in a spare and wearing parts package, created for your individual plant.
Your advantage:
Spare parts can be identified more easily
High availability of parts and short delivery times
Higher operational safety through targeted stock keeping on-site
As an option, preventive wearing parts replacement at specified intervals
Predictable service life of wearing parts can help to avoid sudden plant downtimes
Decentralised spare parts stock keeping and custom-tailored replacement and wearing parts offers guarantee better availability of parts and thus minimisation of downtimes