THERMAL WASTEWATER DISINFECTION AS BATCH SYSTEM OF STERIFIX C100 TO C5000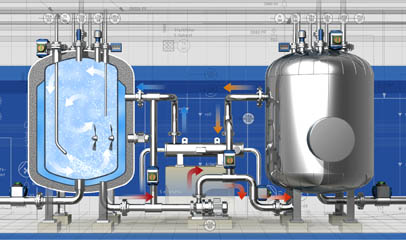 Washing water steriliser TDS60
The EnviroDTS product range comprises different standardised systems with batch volumes of 100 to 5000 litres. The plants can be operated with one steriliser or with two sterilisers working alternately – in this case, even heat recovery is possible.

Sterilisation temperatures (to be chosen by the customer) can be reached with two different heating systems:
Electric heaters built into the tank (SteriFix C100)
Direct steam injection into the wastewater

As an option, compact electric steam generators or gas systems can be integrated into the plants.

Example for plants:


SteriFix C500 SteriFix C2500

SteriFix C500

Landesuntersuchungsamt Sachsen, Dresden (5 m³/day)

The Landesuntersuchungsanstalt works to protect the consumer. For this reason, it inspects foodstuffs, among others . Especially in the autopsy and laboratory areas of the veterinary pathology presumably infectious wastewater forms that must be sterilised immediately.

The plant consists mainly of two parallel sterilisers with a heat recovery system.

For wastewater buffering, two plastic tanks are used in which the wastewater can be recirculated by the means of grinding pumps.

A compact electric steam generator generates the steam to be introduced into the sterilisers.

The sterilisation temperature is 138 °C; the dwell time is 20 minutes.

Output of the installation: 5 m³/day




Two alternately operating sterilisers with double shell for heat transfer (batch size 500 l)

PP buffer tanks, 5 m³ each with grinding pump.

SteriFix C2500

SteriFix C2500 at the Friedrich-Loeffler Institute (FLI) in Jena

The FLI in Jena researches animal diseases such as BSE, foot-and-mouth disease or avian influenza. All wastewater from the animal stables and the laboratory areas are sterilised thermally. The plant's daily capacity is 12 m³ at 134 °C and a dwell time of 20 min. A special thermal recovery process minimises the running costs. Due to the high danger of infection, the plant is equipped with additional safety features.