MULTIMEDIA FILTRATION FOR SEPARATION OF PARTICLES, OXIDISED IRON AND MANGANESE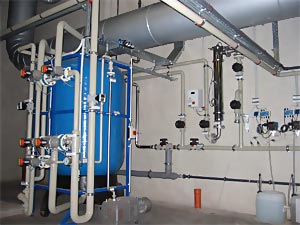 Water filtration through gravel and sand is a centuries-old tradition. Due to its high dirt removal rate and the safe water purification, depth filtration has been and is still widely and extensively used. The use of modern filter materials can improve filtration capacity further. The filter material can be adapted to the customers' requirements.

EnviroDTS multimedia filters are always custom-tailored. The microbial contamination risk, the filtration capacity, the degree of contamination and the filtration throughput are considered during plant layout.

The exact control of the backwash process is facilitated by single valves with position limit switch. This allows the optimisation of the backwash water volume and the chemicals used (if required). The rinsing and flow rate are set precisely. The exact setting cuts operating costs and thus allows economic operation of the plant.

Multimedia filters are normally installed in groups, so that there is always enough filtered water available during backwash.