REACTOR NEUTRALISATION INSTALLATIONS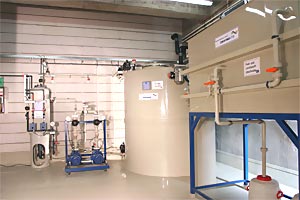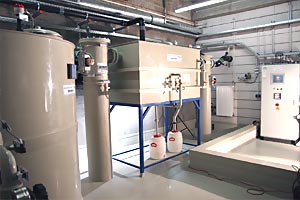 Max-Planck Institute, Heidelberg
We have successfully been using the space-saving reactor neutralisation process for many years in the most diverse applications. It facilitates treatment of large wastewater flows without need of much space. This is possible through a special pressure reactor and a venturi system for the chemicals.

The picture shows the plant of the Max-Planck Institute in Heidelberg. It consists mainly of a dirt trap, a pH gate, a 10 m3 buffer tank and the pressure vessel. The vessel is made of GRP and allows high plant capacity while using little space. The capacity per hour is 20 m3.

Special fixtures inside the reactor guarantee optimum mixing of the drawn neutralisation chemicals.


This method presents the following advantages compared with continuous flow or batch neutralisation:
compact design, very space-saving
the flow tube principle allows more exact pH measurement and shorter reaction times and, as a consequence, more exact chemicals dosing lower chemicals consumption, thus lower operation costs
completely closed system, thus no acidic fumes or problematic odours in the environment
use of pH electrodes with increased service life and easy maintenance